Articles Tagged 'Yonge-Dundas Square'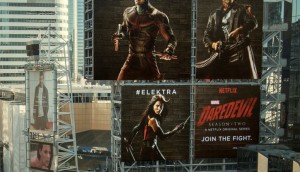 Spotted! Daredevil starts a fight
A billboard promoting the new season of the Netflix show will evolve as viewers talk about the characters on social media.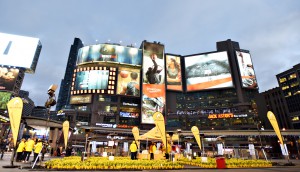 Spotted! Breakfast sandwiches amidst a field of gold
The Egg Farmers of Canada took over Yonge-Dundas Square to promote the importance of high-quality, local eggs to the Canadian morning meal.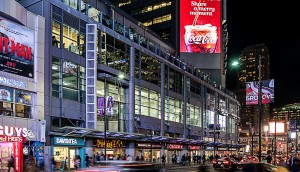 Inaugurating Canada's largest vertical screen
Coca-Cola's #MakeSomeoneHappy campaign launches on Cieslok Media's newest digital addition to Yonge-Dundas Square.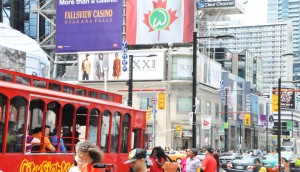 Clear Channel upgrades Dundas Square screen
The OOH company has updated one of its digital screens on the Bay Media Tower where daily footfalls reach 137,000.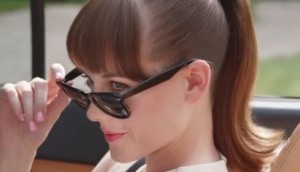 Revlon goes looking for love
To promote its first new tagline in a decade, the cosmetics company is launching a media plan that includes its first OOH ads and dating websites.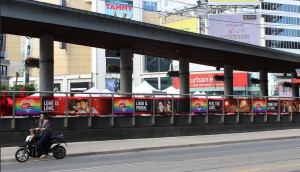 Spotted! Virgin Mobile shows its pride
The mobile company takes over Yonge-Dundas Square in Toronto to spread a message of love.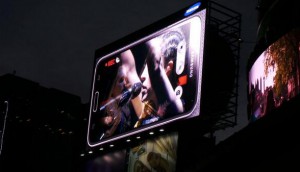 Samsung goes big…really big
The company's new Yonge-Dundas Square billboard, which can display live video and social media content, launched this weekend.
Spotted! Tim Hortons' #tbt celebration
Yonge-Dundas Square has been retrofitted with the makings of the QSR's original Hamilton store for its 50th birthday.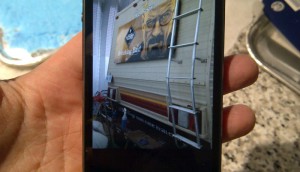 Spotted! Breaking Bad RV tours Toronto
Sony Pictures Home Entertainment invites fans to unleash their inner Walter White on social media for the launch of the show's complete series Blu-ray/DVD set.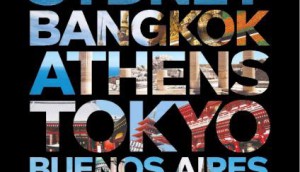 Aeroplan gives it away
The loyalty company is promoting its Distinction program by giving away a free trip every five minutes tomorrow at Yonge-Dundas Square in Toronto.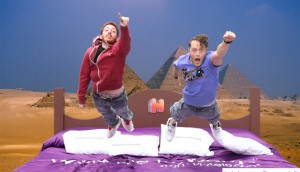 Spotted! Hotels.com bounces on beds
People visiting Yonge-Dundas Square over Thanksgiving weekend were invited by the online hotel destination to have their photo taken on a giant branded bed.
Mark's welcomes women
The brand rolls out its store re-branding with a new campaign across the GTA.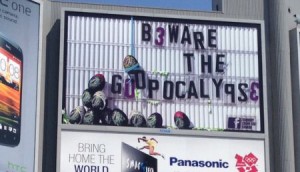 Cadbury warns of an outbreak
The Kraft-owned brand is launching Halloween-themed Screme Eggs with online videos, commercials and OOH postings that talk of an impending "Goopocalypse."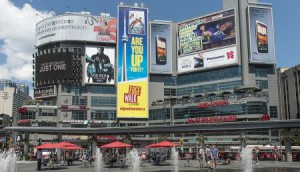 Titan takes over 10 Dundas in Toronto
Previously operated by Clear Channel, the OOH co will provide clients with the ability to dominate interiors in the north-facing property of Yonge-Dundas Square.