Face-off: What's the story with Instagram and Snapchat?
Industry insiders discuss Instagram's new Stories feature, and whether it's enough to make millennial favourite Snapchat irrelevant.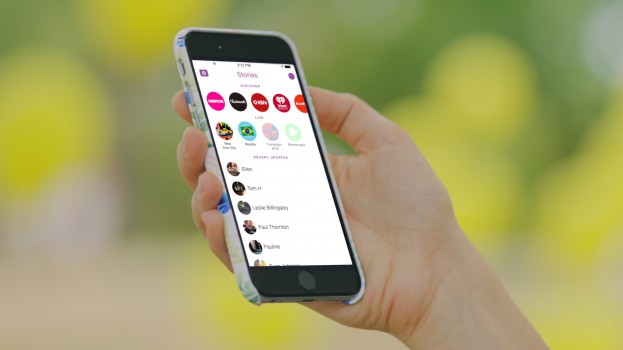 When it comes to reaching millennials and Gen Z, few have ever denied the power of mobile-first social giants Instagram and Snapchat.
Both boast millions of users (Instagram officially has 8.5 million active users in Canada; Snapchat sits at four million Canadian users). Both are particularly popular among the 18 to 34 demographic (four million for Instagram, 2.3 million for Snapchat, according to MediaCom). Both have been embraced by brands and influencers alike, and have creators pulling in thousands of dollars per post from branded deals.
Despite their similar reach, up until this point, the two have co-existed without much conflict, thanks to their vastly different formats — up until now.
Instagram first began the roll-out of its Stories feature in August. The update allows users to take and compile pictures throughout the day in real-time (photos can only be captured  in-app, not uploaded), which disappear after 24 hours. It also allows instant messaging of those real-time pictures, and enables users to scribble and draw all over their pictures.
Sound familiar?
The concept is essentially the same as Snapchat's Stories, with a few differences (more on those later).
With social media and influencer marketing now a crucial part of brand development, how will this change affect Canada's media and advertising landscape? Will the two battle it out for brand love with one eventually conquering the other, or will they remain relatively unaffected by one another, and eventually — as the kids say — stay in their own lanes?
Kaan Yigit, CEO of Toronto-based Solutions Research group, suspects it's actually Snapchat laughing at Instagram and not the other way around.
"Stories were kind of native to Snapchat as part of the user experience, while it has grafted to Instagram after the fact," Yigit told MiC. "They look and function similarly, granted, but it seems to me like Snapchat without Stories would not be as compelling, while Instagram without stories is just fine as it always was."
His criticism isn't just based on impressions, he said — it's in the numbers.
In Solutions' Canada-specific studies on both social networks, Snapchat is quickly catching up to Instagram's popularity with all ages.
While Snapchat is stereotyped as a young person's network — 61% of Canadian Snapchat users are under 30, versus 49% on Instagram — its userbase in the 30 to 49 age range is trending upward, while Instagram, Yigit said, remains. "Snapchat nearly tripled in that (30 to 49) age group since June 2015."
The other major difference, he said, is the addictive nature of Snapchat. Solutions found that users tended to check Snapchat throughout the day 16% more than they did Instagram.
Indeed, there are still a few key features that separate Snapchat from Instagram — the platform's ad-supported Discover feature, showcasing content from major publishers like Comedy Central and Refinery 29, its Snapchat Live section, showcasing curated content from major events like the Rio Olympics, and, of course, those crazy face filters.
Matt Litzinger, president and chief creative officer of Red Lion Canada, also thinks the rivalry of the two Story features is overblown — but unlike Yigit, he sees Instagram coming out on top.
Red Lion has worked equal amounts with Instagram and Snapchat, said Litzinger, but for brands, it's far easier to be innovative on Instagram. He cited the example of the Toronto Silent Film Festival, which incorporated mini silent films into its Instagram feed.
"The nature of Snapchat doesn't allow you to be quite as creative depending on client needs," Litzinger told MiC.
And while Snapchat's real-time nature has been hailed for its authenticity, that doesn't always work for advertisers.
"Because it's in the moment, because it's real-time, it ends up contradicting what it's about, because you have to create staged things, which makes it lose its authenticity, which makes people call BS on it."
Litzinger said Red Lion's work on Snapchat has been more experimental and more about learning the nature of the platform.
Discoverability is also a major issue for brands on Snapchat, which is why more clients tend to gravitate toward Instagram.
Unlike Instagram, Snapchat does not yet promote accounts — so brands looking to gain exposure can't pay to push themselves to users' feeds.
"If you don't have a substantial amount of followers or celebrity to begin with, you still probably need an additional media push to promote your presence," said Litzinger.
While Litzinger understood the addition of Stories to Instagram, he said it probably won't be a big game-changer for brands that never intended to use a real-time platform like Snapchat in the first place.
But Jordan Benedet, director of social for Catalyst/Group M, said anyone looking for opportunities for consolidation might gravitate toward Instagram.
"With Instagram, we use it much more frequently (for campaigns) in conjunction with Facebook than on its own," Benedet told MiC. "Instagram has a lot of opportunities for efficiencies."
Snapchat also demands a higher premium than Instagram, Benedet said, although he expects Snapchat's CPMs to lower down the road, especially if it adopts a self-service ad interface like Instagram did last year.
For brands looking to create a national campaign through a custom geofilter — like the ones used by A&W in a recent campaign — the price generally starts at $50,000, said Benedet (Snapchat does include a small self-service option for custom geofilters starting at $45, however these filters are for single-day events such as parties and weddings and are confined to a very small geographic space.)
But the prices may be worth it to attract those sought-after teens and young millennials. For Canadian teenagers, Snapchat has a penetration rate of 23% — 5% more than Instagram, according to data from MediaCom.
While Snapchat captures the attention of the kids, Instagram's audience has more variance in age, with nearly twice as many users in the 18 to 34 range as Snapchat.
That age range, as well as the content delivery style, affects the style of marketing, said Benedet. "Snapchat has much more shorter attention span, so it really comes out in their ad  offerings. Their ads are typically three to five seconds long, whereas Instagram now goes to 60 seconds. Snapchat is more of a fast and focused environment."
Now, with Instagram delivering the same "fast and focused" options, Benedet said there's potential for it to take off.
"Everyone is copying everyone, using what works for the others and trying it on for size."