ICYMI: Torstar chief's plea to MPs, Molson Coors begins agency review
In case you missed it: John Honderich's speech to Canadian Heritage, Molson Coors' agency RFP and CF Eaton Centre's new digital board(s).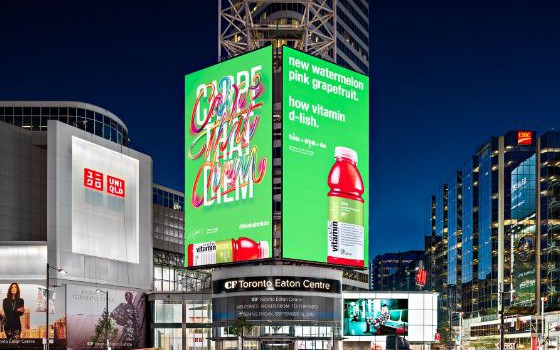 Torstar chair tries to push newspaper conversation to the forefront
Torstar chair John Honderich delivered a speech to MPs on the Canadian Heritage committee yesterday, urging them to take action as Canadian media companies continue to face falling revenues. "My message to you is a simple one: there is a crisis of declining good journalism across Canada and at this point we only see the situation getting worse," Honderich said in his speech. Also present was iPolitics founding editor Jim Baxter, who called on the government to halt its funding of the CBC's "massive" expansion into digital media, calling the broadcaster an "uber-competitor" for private media companies.
Their concerns echoed the recent plea by a group of Quebec newspapers calling themselves the Coalition pour la pérennité de la presse d'information au Québec (coalition to ensure the long-term survival of print news media in Québec) who have formally asked the Government of Québec to set up a temporary financial assistance program for the province's newspapers.
Molson Coors to review media agency
Molson Coors has confirmed that it is reviewing its media agency accounts in Canada, the U.S. and U.K. In Canada, the brewing company works with MEC, an account it renewed in 2014 following a partnership with Vice and one of its ads being shortlisted for Media Lions award at Cannes.
A spokesperson for Molson Coors confirmed to MiC that the review is currently in progress but declined to comment further.
Rogers Media gets two new radio stations
The Tillsonburg Broadcasting Company has been acquired by Rogers Media. The radio broadcasting licenses for CJDL-FM (Country 107.3) and CKOT-FM (Easy 101) have been sold to Rogers Media effective in 2017, with the transaction still subject to CRTC approval. The two stations will continue to operate out of studios in Tillsonburg, ON and service the areas of Tillsonburg, London, Kitchener-Waterloo, Stratford and surrounding areas. Station GM Carolyn Lamers will stay with the business in her current role.
iProspect adds two to strategy team
Dentsu Aegis-owned digital agency iProspect has added two people to its strategy team. Andrea Flaming, who has previously worked in client services and account management with eBay Enterprise, MediaCom and Vizeum, has joined as a digital business strategist to oversee client strategies and marketing initiatives. Vyoma Bulsara, formerly from the Leo Burnett Group, will hold the title of account coordinator and will work with iProspect's strategy and production teams. Both will be based out of the agency's Toronto office.
Radio groups join forces to bring listening app to Canada
European radio streaming app Radioplayer will become available in Canada on iOS, Android and on desktop, thanks to a deal with a number of Canadian radio groups. The app will give listeners access to music from close to 500 stations from around the country, with participation from Central Ontario Broadcasting, Clear Sky Radio, Cogeco, Corus, Durham Radio, Golden West, Harvard Broadcasting, Larche Communications, Newcap Radio, Pattison, Rogers, Rawlco Radio, RNC Media, Skaskatoon Media Group and Vista Radio.
Originally based in the U.K. (where it boasts seven million monthly listeners, according to its own statistics), Radioplayer costs a small set-up fee for participating radio stations and allows the stations to personalize branding for their stations. The official launch date of Radioplayer Canada will be announced soon.
Eaton Centre ads an even larger digital display (sort of)
The CF Toronto Eaton Centre has activated two new high resolution screens outside Yonge-Duundas Square, both measuring 45′ by 90′. While the display is not technically the largest display in the square (the Samsung Landmark Digital on top of the media tower is the largest at 97′ by 60′, or 5,820 square feet), because the two screens are adjacent to one another and can be used simultaneously for the same messaging, a display of 8,100 square feet is now active. Yonge-Dundas Square boasts an estimated 146,200 daily visitors, according to a release by Cadillac Fairview.
One win and one renewal in BC for Pattison
Pattison Outdoor Advertising has won the media sales contract for the City of Surrey, BC, to manage its bus bench advertising inventory, which includes media sales for more than 800 bus benches. It has also renewed its contract with the City of Chilliwack to manage the sales for its transit shelter advertising faces, with a total of 34 faces. Last week, Pattison renewed its account with the City of Richmond, BC, to manage more than 1,000 advertising faces on the city's bus benches and transit shelters. Surrey is the second-largest city in British Columbia with an estimated population of more than 500,000 and is located along the Canada-U.S. border, while Chilliwack (pop. 84,000) is located one hour east of Vancouver.