Digital OOH on cusp of transformation, but not just yet: IAB Canada
At the IAB Canada's Location-Based Advertising day, speakers discussed the potential of the medium, including whether or not programmatic OOH can create a revolution in advertising.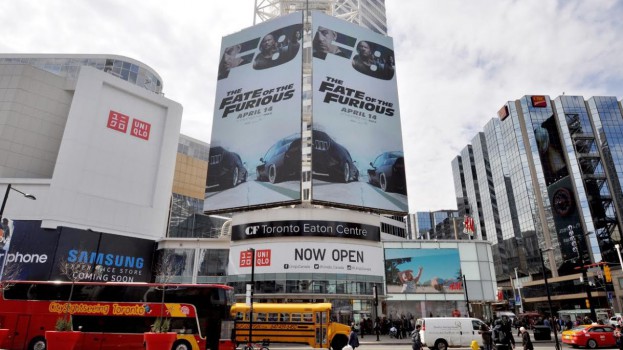 The Interactive Advertising Bureau (IAB)'s latest event in its Business of Digital series was an afternoon of panels and presentations on location-based advertising.
The panels discussed how location would play a role in the transformation of the out-of-home media space, particularly in digital. Just how big a role? Bala Gopalakrishnan, managing director at Pelmorex Data Solutions, said that when the data is used in the right way, it can be the "holy grail" of advertising and can unlock far greater value from OOH, from more relevant brand messaging to more effective programmatic ad buying.
Abby Worthington, senior director, head of print and out-of-home investment with Amplifi, said that increased value is coming at the right time. She added that out-of-home budgets are still commonly the first platform to be cut from plans when clients are trimming their budgets. But, also that technology for location-based targeting is leading OOH media into a period of transformation.
But that transformation still has some barriers, according to several speakers, and it may take time to prove its worth. MiC was on the ground at the event, gathering the key takeaways from the day.
Location is the new browsing history…
Sitting on an introductory panel about the "hype" of location-based advertising, Gopalakrishnan said location data, when incorporated correctly, is the key to evolving out-of-home media into something that excites clients as much as digital, and that it has potential to simultaneously build profiles while driving customers to purchase. However, he added, there are still many companies that have questions and concerns about how to do that correctly.
Geoffrey Rotstein, president and CEO at EQ Works, which specializes in targeting, said the days of targeting based on browsing history are passé. "If you looked at my browsing industry based on things I was reading during the [U.S.] election, you probably would have assumed I was a Republican," he said (which, he said for the record, is not the case). "You can learn more about the fact that I go to Starbucks three times a week."
… but accuracy is still an issue
Katelyn Daniels, digital investment manager at Amplifi Digital, said her company has run numerous tests on the accuracy and capabilities of location-based advertising. The location-based advertising space, she said, is still quite fragmented and tech partners need more capabilities when it comes to how it makes assumptions about behavioural segments based on location, especially in crowded urban areas. "Some assumptions hit the nail on the head, but some were interesting," she said. One example was that she had been placed in the "fitness enthusiast" category because she had visited a GTA Loblaw's repeatedly, and the grocery store had a GoodLife Fitness in the building. "I could have been buying chicken wings and pizza."
Inaccurate assumptions can also be made based around dayparting and events. "My colleague went to the Rogers Centre to see [monster truck show] Monster Jam, but [the tech partner] had actually gotten the date and time stamp wrong. So what if there had been a Celine Dion concert the night before? That's a very different audience."
Trust also plays a factor, said Gopalakrishnan, who said that clear opt-out options need to be displayed on as many digital components as possible. "You need to create a situation that collects data but clearly gives value back to the consumer," he said.
The advertising doesn't have to be a one-off
Ian Mackenzie, executive creative director at FCB Toronto, said agencies still could be doing more with data, and that many stunt-based international out-of-home advertisements gives the media a reputation for having a "history of one-offs."
Sonia Carreno, president of IAB Canada, said many of these one-off ads, which incorporate everything from facial recognition to elaborate set pieces at bus shelters are seemingly created with Cannes in mind, but rarely turn into anything long-term. Real-time data such as weather, sports scores, news and even flight data can be used to influence advertising in the long-term, she said.
Kristie Panting, VP of digital sales at Bell Media, also said many of these activations can avoid being seen as one-offs if they incorporate more aspects than just the out-of-home media itself. She used the example of Coke's 2015 "Coke My Name" campaign in Times Square, which targeted social media users based on location and urged them to Tweet their name to the Coke Twitter account. It then broadcast a fun fact about the history or etymology of their name on a Times Square billboard and served them with a coupon. "There was a social sharing component, and in this instance, they also added a piece that immediately led to path to purchase."
Programmatic out-of-home is a reality, but it's complicated
Programmatic has long been synonymous with digital advertising, but the practice has now spread to other media, including out-of-home. And Worthington estimated that 70% of agencies' overall spending would go into the programmatic space if it were up to those at the top.
But many of the speakers noted that assumptions and pre-conceived notions about programmatic will make for a bumpy road to widespread industry adoption. Mike Rusk, associate director of Cadreon, said it causes many to see the country's excess digital transit, column and poster faces as less valuable than they actually are.
"Digital didn't start by going after the big home-page takeovers, and I don't think digital out-of-home should do that as well," said Rusk. He said there's value to be found in the excess inventory for programmatic.
Mike Gamaroff, EVP of channel planning at SITO Mobile, said that so-called "premium" inventory is only as valuable as the data it's delivering. He said the agency world is always ripe with questions about why OOH should get into programmatic. And, he said, "Because digital does it" is not a good enough answer. "The digital out-of-home space is nothing like the digital space," he said, and that increased tools don't necessarily help. "Clients don't care if agencies have it easy or difficult, they just want them to do their jobs."
But he ended his talk on a more optimistic note, saying that advertisers will still be attracted to the efficiency of programmatic in digital OOH. "By incorporating data, the movement of people as they move throughout the world can be used to automate the right message and serve it at the right time… suddenly, the advertisers woke up and said, 'that, I can buy.'"
The value needs to be demonstrated
Carreno, who presented the results of a survey of IAB members indicating their attitudes toward digital OOH, said the industry has a "bizarre desire to have measurable media." Some advertisers, she said, are still very closed off to the digital OOH, with an attitude of "Oh hell no, I'm not touching that."
Those reservations are based on a variety of factors. For some, she said, it's a measurement issue (Worthington said one of the biggest struggles with out-of-home measurement has historically been that measured foot traffic is considered an impression). When asked what the biggest barriers to adopting digital OOH, 39% of respondents said they need proof that DOOH works, and 53% said metrics aren't comparable to other media.
For others, there are legitimate concerns about what kind of digital data is kosher to use, as well as privacy concerns.
But Painting told the crowd, "Just because something isn't measurable doesn't mean it's not working. It means it's not measurable." The industry, she said, needs to stop worrying about apples-to-apples comparison and trust in the data that's being incorporated. "The more relevant a message is to a consumer, the more receptive they are likely to be," she said. She also added that the more case studies the industry can build, the more the media will take off.