RTB offers new data opportunities: panel
At the IAB's Real Time Bidding conference, media execs weighed in on how their agencies are handling RTB and where the platform is headed in Canada.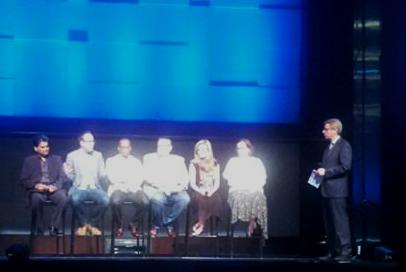 At yesterday's IAB Canada "X Series: Real Time Bidding" conference, a panel of media agency execs gathered to share how their agencies are approaching the rising tide of RTB, and shed insights on the challenges and opportunities the buying platform presents going forward.
The panel included Scott Atkinson, managing director, digital solutions, Media Experts; Shane Cameron, managing director, digital, OMD; Veronica Holmes, president, digital, ZenithOptimedia; Raymond Reid, managing director, Neo@Ogilvy; Rebecca Shropshire, VP, director of digital communications, UM Canada; and Peter Vaz, VP, director digital communications, M2 Universal digital.
At both UM Canada and ZenithOptimedia, the decision has been to tackle RTB in-house. Shropshire said UM Canada developed its trading desk in late 2012 to circumvent the challenges of dealing with third parties and ad networks. She added that the in-agency approach allows UM to be more flexible and work with multiple DSPs while exercising greater control over campaigns.
Conceding that ZenithOptimedia was late to the RTB game, Holmes said the in-agency approach was ideal because it has been able to leverage existing market learnings to understand the RTB process from end to end and deliver more effective results for clients. She added that it also allows ZenithOptimedia to directly manage and ensure the security of consumer data, which is all too important with its government clients.
Though their approaches to RTB differ, there was clear consensus among the execs that RTB holds potential beyond performance-based campaigns, particularly when it comes to data acquisition.
Holmes said ZenithOptimedia can already use the data gleaned from RTB campaigns to influence the way it prioritizes search keywords. She added that the goal for clients will be to find ways to transport this data across all media, allowing them to target behaviour and preferences and to create more relevant and engaging advertising.
The obstacle, said Holmes, is still to get clients to embrace RTB in greater volume. To do this, she said, it will be up to agencies to be more transparent when it comes to the pricing and value of RTB buys.
She added that there also needs to be a wholesale clean-up of the current RTB inventory, and that publishers must set clear standards for how they handle the acquisition of traffic to minimize the amount of blind inventory in the marketplace, and allow advertisers to know where their ads will end up.
Photo from left: Peter Vaz, Shane Cameron, Raymond Reid, Scott Atkinson, Rebecca Shropshire, Veronica Holmes, Chris Williams.