Fall TV: Primetime Battlegrounds
We called in some media insiders to pick the best bets and toughest fights across the new fall schedule.
Now that the lights, red carpets and hangovers of the upfronts are all things of the past, which shows emerged as likely to pull in the most viewers this fall across the shiny new Canadian TV schedules? Will Shaw's drama-heavy 10 p.m. plan pan out on Global? How about Rogers' Citytv prescription for laughs? We called in some media insiders to pick the best bets and toughest fights across the new fall schedule. Ready, set, watch!
Monday
The most notable battle for the dial on Monday night, according to Kim Dougherty, director of national broadcast investments, OMD, is the fight for reality TV supremacy between Bell Media's two conventional networks.
At 8 p.m. it's pitting Dancing with the Stars on CTV against the newly added fall season of The Voice on CTV Two. "Dancing with the Stars has a slightly older skew than The Voice but both shows have fairly similar audiences," she says.
Deborah Coyne, managing director of trading, Maxus Canada, agrees, saying the two popular reality hits will split the audience. Last season, Dancing with the Stars earned an average audience of 1.99 million viewers per episode and The Voice got 1.59 million, according to numbers provided by CTV from BBM Canada. Also betting on the 8 p.m. reality audience is the results show of CBC's new musical talent search Over the Rainbow, running against a simulcast of Bones on Global Television, which moved from 9 p.m. on Thursday, previously earning an average audience of 1.725 million viewers for its May finale (BBM Canada).
"Bones is no pushover," says Coyne. "It has consistently proven itself against both [DWTS and The Voice] and will win 8 p.m."
Coyne and Dougherty agree that Citytv's new Monday buddy comedy, Partners (pictured above), from the creators of Will and Grace, will perform well in its 8:30 p.m. timeslot, with the lead-in of How I Met Your Mother, which drew an average audience of 863,400 viewers last year.*
Comedy continues at 9 p.m. on Citytv, with 2 Broke Girls leading into Don't Trust the B—- in Apartment 23, which earned 622,400 average viewers in its 2012 spring mid-season debut. Global contrasts this with the pre-release of Parenthood. "It may not pull the same numbers as House but with Bones as a lead-in it could carry over a majority of its audience," says Coyne.
The media insiders are split on how Revolution, the new post-apocalyptic drama from J.J. Abrams at 10 p.m. on Citytv, will fare. "It looks exciting and suspenseful, but perhaps a bit complicated against the other broadcast offerings," says Dougherty.
Those other offerings are returning audience stalwarts Castle on CTV, Hawaii Five-0 on Global and a repeat of Flashpoint on CTV Two. Coyne, however, believes that Revolution will draw a younger crowd with its Terra Nova vibe.
*Citytv is currently available in 67% of households across Canada.
Tuesday
The second night of the week is home to four new comedies on the conventional dial.
Michael Neale, chief investment officer at MediaCom Canada, says audiences will still be strong for the results show of Dancing with the Stars on CTV at 8 p.m., going against the results of The Voice on CTV Two, Raising Hope on Citytv and NCIS on Global.
Rosemary Cooper, director, broadcast investments at ZenithOptimedia says 8 p.m. will split down the middle, with women choosing Dancing with the Stars and men going with NCIS.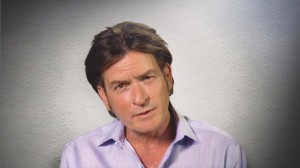 Neale is unsure if the female-heavy DWTS fan base is a good match for the new Charlie Sheen comedy Anger Management on CTV at 9 p.m. "The jury is still out on if the audience will stay leading into the new Charlie Sheen show," says Neale. "[It] covers a very predictable topic for him and we will see if audiences take with this new comedy."
He says if viewers don't want another dose of Sheen, they won't stay for CTV's other new comedy The New Normal, about a woman becoming a surrogate mother for a gay couple. "Not the strongest lineup for CTV in the key 9 p.m. hour," he says.
Cooper says that 9 p.m. will again split along gender lines, with New Girl taking it for the females on Citytv and NCIS: LA on Global winning the most men.
However, she says the 10 p.m. slot is more difficult to predict, with fewer simulcasts and Global's introduction of new drama Vegas.
"Law & Order: SVU did well in pre-release at 10 p.m. so Criminal Minds (in its seventh season on CTV) should also do well, but it faces stiff competition from newcomer Vegas and what could be the last season of Private Practice (on Citytv)."
Neale isn't sold on Global's Dennis Quaid-starring newcomer, about bringing order to Las Vegas in the '60s. "If I were to gamble on this one, I don't see a huge following outside the older end of the 25-to-54 audiences."
Vegas is however a nice audience mesh with the NCIS duo leading into the crime drama, whose protagonist, a convention-breaking law man (a '60s cowboy version of NCIS) is played by Quaid.
Wednesday
There are eight new shows on the Wednesday dial, but OMD's Dougherty and Maxus's Coyne say this night will be another battle for reality supremacy.
At 8 p.m. the fight is between Survivor on Global, a revamped version of The X Factor on CTV, Dragons' Den on CBC and the one non-reality contender, new DC Comics drama Arrow on CTV Two.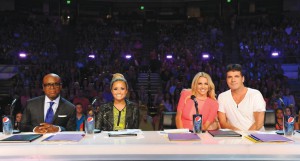 "This year The X Factor will be more exciting that ever as Simon Cowell has signed on Demi Lovato and Britney Spears as judges," says Dougherty. "We believe people will tune in to see whether Britney peaks or not. Anything she does will become water-cooler news the next day. [Spears and Lovato] will definitely improve the already high ratings this show receives."
Coyne, on the other hand, says not to count out Survivor, which took on The X Factor last fall with Global winning week over week. She also says Dragons' Den on the CBC, which pulled an average of 1.39 million viewers per episode last season according to BBM Canada (number provided by the network), will make it a tough battle for newcomer Arrow on CTV Two. However, since it is the one new drama in the slot, the counter-programming may pay off.
CTV continues with The X Factor until 10 p.m., while Global introduces two new comedies in the 9 p.m. hour, the Matthew Perry-starring Go On at 9 p.m. and the Jimmy Fallon-produced Guys With Kids at 9:30 p.m. in pre-release.
Dougherty says the new Global comedies don't stand a chance against established laugher Modern Family on Citytv and The X Factor on CTV.
Coyne, however thinks that while women will jump to the first Canadian version of The Bachelor at 9:30 p.m. on Citytv, men will flock to Guys With Kids. "It is produced by Jimmy Fallon which gives the show instant credibility," says Coyne.
At 10 p.m. Global has new drama Chicago Fire, which Dougherty likens to Back Draft brought to the small screen. She says the show is exciting, but will have a tough time nabbing viewers away from CTV's established drama CSI.
A more female-focused option is new country music drama Nashville on CTV Two, which Dougherty says should provide a "winning soap opera format" in the 10 p.m. slot.
Coyne agrees that though the new dramas look promising, the 10 p.m. hour will again go to CTV this fall.
Thursday
Everything old is new again on the Thursday night fall schedule, with Two and a Half Men coming to the night from Monday and Glee moving over from Tuesday.
The night leads off with Canada's most popular TV show, The Big Bang Theory at 8 p.m. on CTV going against The X Factor results show on CTV Two, the final season of 30 Rock on Citytv and new Scott Speedman-starring drama Last Resort on Global. Helena Shelton, EVP, trading and accountability, PHD, says good production value and a solid storyline should help the new Global drama, about the survivors of an attack on a U.S. submarine, against the comedy blockbuster on CTV.
Bailey Wilson, manager of broadcast investments, UM, says the addition of Two and a Half Men to CTV's schedule at 8:30 p.m. following Big Bang gives the Bell Media channel the strongest lineup of the night. Because of Big Bang's, well, bang with Canadians, she isn't sure about the fate of Last Resort on Global.
"I'm sad to say that Last Resort may fall victim to tough competition from rival CTV at 8 p.m.," she says. However, it has counter-programming going for it as the only drama series in the 8 p.m. timeslot, unlike 9 p.m. when Global brings Glee to simulcast, going against popular series Grey's Anatomy on CTV, Vampire Diaries on CTV Two and Person of Interest on Citytv.
Wilson says Glee's move to Thursday from Tuesday is surprising, and doesn't think it will help its slipping numbers. Shelton says she doesn't see a clear winner in the 9 p.m. slot, with Glee duking it out with the other three dramas.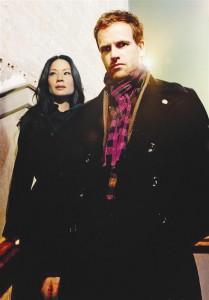 Elementary, the modern day take on Sherlock Holmes has a good shot at 10 p.m. on Global though, says Shelton, who doesn't believe the final season of Flashpoint on CTV, The Mentalist on CTV Two or Scandal on Citytv will offer much competition.
"We believe that despite Scandal's good spring rating performance, Global's new offering Elementary will win the time period," says Shelton.
Wilson agrees, saying she expects Elementary, one of her favourites of the season, to be one of the top new dramas for Global this fall.
Friday
Long thought of as a "throw-away night," Carol Cummings, director of television services, Media Experts, says networks have changed their tune and are now programming some of their top shows at the end of the work week.
Cummings says the biggest match-up of the night comes at 8 p.m., with Kiefer Sutherland's Touch on Global up against CSI: NY on CTV, Shark Tank on CTV Two and comedy Last Man Standing on Citytv. Touch moves from Thursday at 9 p.m., where it went against Grey's Anatomy this spring.
"Both CSI: NY and Touch drew roughly the same viewers, however Touch was opposite tough competition with Grey's Anatomy, so we feel it will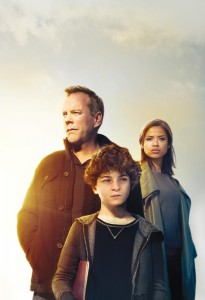 edge out CSI and win the 8 p.m. time slot this fall," says Cummings.
Also moving to Friday is Community at 8:30 p.m. on Citytv, which Todd Paterson, investment director, Starcom, says will draw its loyal crowd of viewers, averaging 266,600 last season.
Made in Jersey, a drama about a young lawyer, is new on Global at 9 p.m., going up against returning fantasy, action and sci-fi shows – Grimm on CTV, Nikita on CTV Two and Fringe on Citytv. Cummings says that female audiences will "sample"the new show, but that dark fairytale drama Grimm will take the time slot.
The 10 p.m. slot is a "no brainer," says Cummings, with Blue Bloods on CTV going against Dateline on CTV Two, an encore episode of Mantracker on Citytv and documentary series 16X9 on Global. Tom Selleck and his moustache for the win.
Saturday
Chatter around the Hockey Night in Canada rights coming up for renewal in 2014 was at a fever pitch during this year's upfronts, something that is unsurprising to MediaCom's Neale who says, "CBC doesn't just win the night, it obliterates the competition."
Neale says the only route for capturing alternate audiences on Saturday comes from targeting women, with his best bet coming from Citytv's repeat of the week's epis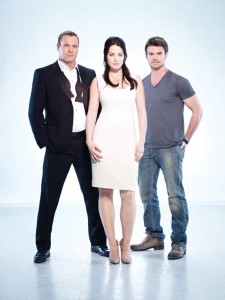 ode of The Bachelor Canada at 8 p.m.
Cancon is scattered throughout the night opposite hockey, with The L.A. Complex airing on CTV Two at 8 p.m., Recipe to Riches running a repeat at that time on Global and the summer-premiered Saving Hope on CTV Two at 9 p.m.
Neale also doesn't have high hopes for the offerings from CTV for the night, with W5 and Crimetime (repeats of crime dramas) running before new alien comedy The Neighbors at 10 p.m., a show he doesn't give more than a season on the air. Former Thursday night comedy Whitney closes the night on the channel, landing at 10:30 p.m.
Sunday
Media Experts' Cummings has her eye on Sunday, saying "if you haven't already purchased a PVR, this night of TV fare may just be the deciding factor in the purchase decision."
She and ZO's Cooper agree that Global will continue to draw a male audience with its animated fleet of shows, including The Simpsons, but Cummings says that The Amazing Race on CTV at 8 p.m. will remain the top draw for the timeslot, beating out new Citytv comedy, the Reba McEntire-starring Malibu Country about a single mother and her family hijinks, and Mike and Molly on CTV Two.
More comedies vie for the 8:30 p.m. spot opposite the hour-long drama and reality, with Will Arnett's Up All Night on CTV Two, Happy Endings moving from Wednesday to its new Sunday spot on Citytv and Bob's Burgers on Global TV.
At 9 p.m. the expected winner is the newly moved Revenge on Citytv, coming to Sunday from its previous spot on Wednesday night, says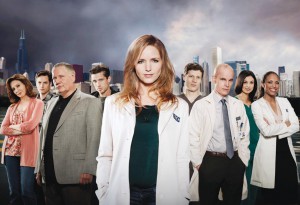 Cummings. She predicts new CTV drama The Mob Doctor will develop a following, but not enough to win the timeslot.
"ABC made a smart scheduling change in moving their hit Revenge from Wednesday to Sunday at 9 p.m. to pull in the Desperate Housewives audience," says Cummings. "In Canada, Rogers is simulcasting the show on Citytv. CTV is hoping to hold onto the Desperate Housewives crowd with new medical drama The Mob Doctor, but Revenge will surely take the time period."
Cummings doesn't have the same hopes for Citytv's new 10 p.m. drama, Vanessa Williams-starring 666 Park Avenue, about a couple who move into the haunted address (think FX Canada's American Horror Story for the conventional dial), which faces stiff competition from The Mentalist on CTV and The Good Wife on Global. She says The Mentalist will take the time slot, slightly edging out the competition.
More on Fall TV:
Restructuring daytime TV in a post-Oprah world