Brands are hitting the street again, investing and experimenting with experiential
Beyond the obvious better weather and loosened COVID restrictions, some say the "stop and look" factor is an effective tactic as attention continues to splinter.
After being battered by two straight years of pandemic restrictions, experiential campaigns are back.
"There's definitely more interest and bookings in on-site activations, whether experiential or some type of interactive event," says Kevin McDonald, CEO Canada at Kinetic. He says clients are noticing the willing re-emergence of consumers to occupy public places, adding that one of its advertisers has booked experiential and DOOH executions for the next two quarters.
"Now clients are saying, 'Hey, we want to do experiential. We want to do things like Yonge-Dundas takeovers.' The confidence in consumer travel behaviour is such that they want to reach people in Yonge-Dundas square, which would skew to a bit more touristy. There's a lot more action in those types of media."
Over the last month, the industry saw an influx of interactive activations as the weather began to improve.
To promote the digital release of Marvel's Spider-Man: No Way Home, Sony Pictures worked with Fuse Create to take over Toronto's Yonge-Dundas Square for a single-day digital OOH campaign that involved an element of experiential.
From about 9:30 a.m. to 4:30 p.m., pedestrians passing through the Square were bombarded by 20-second spots on five digital screens every three minutes that promoted the film's digital release. Simultaneously, eight branded hoodie-wearing ambassadors handed out 2,000 goodie bags that included free snacks and QR code that led consumers to a microsite where they could purchase a download of the film on the platform of their choice.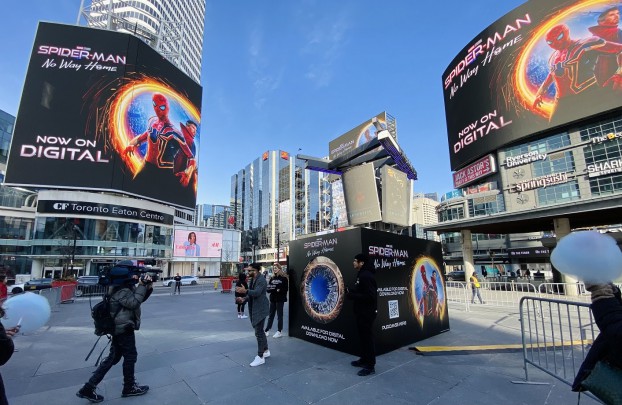 Rita Steinberg, director, digital media at Fuse Create told CARD that "everyone was aware of the movie, but the theatrical window was cut short because of COVID, and a lot of people that would normally see the movie in a theatre didn't necessarily get the chance to or weren't yet comfortable going into a movie theatre. So we wanted to do something outside of the digital world." That "something" included a branded tuck shop, with a photo booth that featured a multi-verse portal, handouts and a cotton candy machine "that pretty much had a lineup until we closed at 4:30 p.m."
Other experiential and DOOH campaigns this spring so far include: Cirque du Soleil's takeover of Yonge-Dundas Square, using a pair of flipped-over vehicles and sneak-peek live performances to promote its upcoming live Kurios show; Tourism Australia and beer manufacturer Stella Artois used OOH projections on downtown Toronto buildings to bring awareness to their respective travel and beverage brands; Lowe's Canada used sculptures laden with QR codes in Québec City to recruit new employees; and DC Comics' The Batman used Toronto's Eaton Centre as the backdrop for a visually stunning bat swarm installation courtesy of Warner Bros. Canada and Rooftop.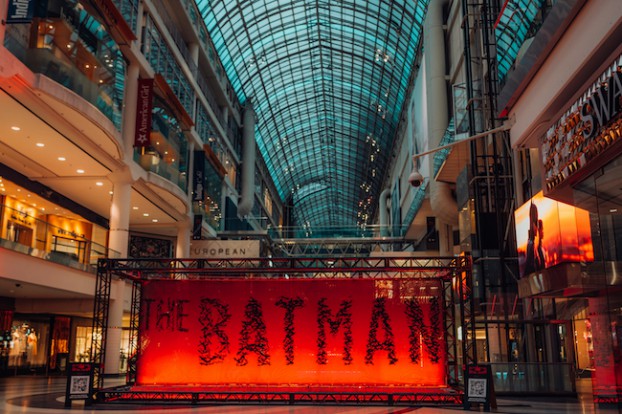 Kinetic's McDonald notes that health and safety concerns due to the continuing presence of the pandemic have also prompted tech and media companies to build a better beast when it comes to staging experiential and DOOH campaigns.
"Because people are less likely to be touching surfaces, we've seen a pretty interesting growth in technologies just through motion interaction," he says. "Big Digital has a product that is a moveable, high-definition, OOH board that's an actual structure. You rent them for a month, bring them around to different events and drop them into areas that maybe don't have a lot of digital out-of-home or static out-of-home, but have huge pedestrian traffic."
While there has been a noticeable uptick in interactive and visual outdoor activations, there's still a tough obstacle facing advertisers: provincial restrictions. The fact that each province isn't on the same page when it comes to lifting pandemic public safety protocols is delaying potential national experiential campaign interest, but David Mear, Horizon Media's director, business solutions says it's only a matter of time before that changes.
"It is coming," he says. "When you look at Ontario, it's only been the last couple weeks that restrictions have really loosened. But I know – and I can speak for a couple of my clients – directionally, OOH has been more of a key channel for us going forward. Specifically, we are looking at opening up one client to more experiential opportunities, just because I think people are quite desperate to get out of the house."
"It's also a way for [brands] to have a greater interaction with [the] consumer; to have that one-to-one communication and tailor the messaging," adds Mear. "I think people are really eager to reconnect with their communities, with brands, and the platforms that we have taken for granted pre-COVID."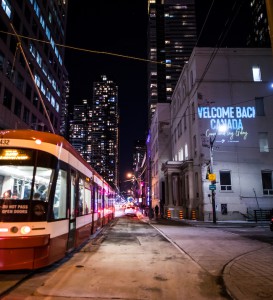 Kaan Yigit, president and research director of Solutions Research Group, suggests there may be a deeper motive behind the increase in experiential campaign activity.
"'Stop and look' is worth a lot these days when media is hyper-fragmented," he notes. "We have the continuation of a couple of trends that are contributing to further fragmentation of splintering ad-supported media. One is rise of subscription-based ad-free OTTs like Netflix, Amazon Prime, Disney+ stealing prime time TV share. Another is further fragmentation on social media with TikTok, Instagram, Facebook, Twitter, YouTube and similar platforms all competing for consumers' time and attention.
"So of course, based on this, we are seeing more OOH activations," Yigit continues. "In the past, these were very local and hard to scale, but today, a good activation also can deliver a bonus audience if it were to go viral on social media. In that sense, you can think of a good activation as good content."